Ryobi Orbital sander review
Orbital sanders are always my choice to work efficiently and smoothly. I always tried to purchase the one but many renowned sanders like Festol were out of my range. Before months ago, I was introduced to Ryobi cordless orbital sander and I fell in love with its budget-friendly features.
Ryobi is a known name for me and I have been using the products for their prices and impressive features. That is why when I encountered a cordless sander I was excited to buy it and it was worth it. Ryobi orbital sander is cordless exclusively designed for homeowners, economical in price and you can buy it from home depot.
What is Sander?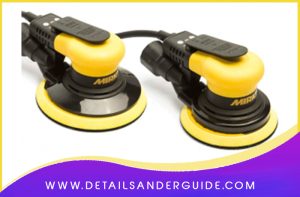 Sanders are powerful tools that help in smoothing out the surface by abrasion with sandpaper. The cordless sanders are convenient and much more convenient to use. Sanders are commonly used these days particularly for wood cutting, cabinet making work and trim work. The sander helps in furniture making and let you smooth out the even surface.
Electric power cordless sanders have replaced the classic manual sanders that were fussy and irritate the user while they use them. Electric sanders have made finishing the furniture easy to drive for home users particularly. Ryobi P411 is an incredible addition to the cordless Sanders – it has made the sanding process quicker and easy than ever before.
What's in the package?
The package includes an elegant sander, a dust bag attached to the tool to catch shavings, and Ryobi orbital sander pads. The sander works on batteries (not included). The package also includes a carrying bag and manual.
Overview:
I love creating my masterpieces with wood and for that sanders always helped me a lot. I used many other Ryobi orbital sanders and reviewed this particular Ryobi orbital sander finding it better than many available in the market.
Once you are done with the cutting and assembling process of wood it calls for cleaning the piece for the next step. The Ryobi orbital sander P411 is quite a handy tool to make your furniture look neat and splinter-free.
You may need to hold it with a specific angle on the wood and work lightly. It will work fast and smoothly. The bags add convenience and there will be a lesser mess at your workspace. It is compatible with Ryobi One+ 18 volt batteries system and batteries can work for other Ryobi sanders. With help for sanding pads, you can take it off and start using the orbital sander.
Features:
After review here are a few features that make it a unique and reliable choice as sanders.
Ryobi orbital sander sandpaper finishing is quite efficient. It works on merely 18-volts and with the dust collection bag; it allows you to work while leaving a minimum mess behind. The design of the sander is quite simple, stylish and practical. The Ryobi orbital sander parts are sleek and everything works along to provide a job well done with convenience.
The plus point here is the dust pack lets you work with less mess but it works best only with Ryobi orbital sander vacuum attachment.
It claims to work at 10000 orbits per minute which is pretty good to provide a swirl-free smooth finish. There is a hook and loop accessory system that adds more convenience. After I used it the sander works smoothly but not continuously for a long time.
The sander has an elegant design and it offers minimum vibration while you work with it. You will love the over-molded grip and easy to handle and control features. You can hold it with a top grip and middle grip.
The battery timing is quite fine compared to Rigid and other cordless sanders available in the market. The run time is almost thirty-five minutes when you are using P109 batteries. The tool is only two and a half-pound in weight which makes it okay to carry for long.
It is a good choice only when you are using confined spaces and light woodwork. For major finishes and complicated tasks use a more powerful sander along with it for best results.
The pads are replaceable and you can buy Ryobi orbital sander pads replacement. The Price is quite economical and the home depot Ryobi orbital sander allows working fuss-free. Buffing pad for Ryobi orbital sander allows using it polish and wax car seats.
Plus and Minuses
Based on features here are a few plus and minuses of the Sander
The cordless feature allows you to work indoors and in close places. Now you will not get irritated with wire tangling at the foot and with equipment again and again.
It has a decent and firm rubber over grip that makes handling it easy. When you use a sander it vibrates which make it hard to control but rubber grips make it easy for the user to control.
The Ryobi orbit sander is stylish and sleek in design; it weighs around 2.5lbs that make it medium in weight and easy to carry.
A dust bag is attached to the sander which reduces workload and you might not need to clean after work is done.
It is an economical choice for homeowners.
The sander comes with a manual dust bag and a carrying bag.
10,000 orbits per minute make it smooth and powerful enough to provide a smooth and splinter-free surface.
Minus:
The orbit sander is smooth and smart but there are also few drawbacks of using it like
It is not good food for professional and industrial use.
The dust bag works well only with a vacuum
It is a bit noisy and takes time to start.
Verdict
The Ryobi orbital cordless sander is an overall good choice for homeowners. Home users do not need to work on a complicated project and also the work can be done in a few hours. The noise and starting time is an issue but with its price, quality and durable parts, the issue can be neglected. Our verdict is that it is worth a shot for those who are looking for a
budget-friendly solution for their wood projects
.