Best Sander for Furnitures (May 2021) (Updated) (Ultimate Buyer's Guide)
Carpentry and furniture building has of course been around for ages. However, it is only with recent technological developments, that the process has been sped up and made much easier. Here we are talking about electric sanders. Yeah, using an electric sander, instead of sanding by hand, can save you a whole lot of time. That said, you do need the best sander for Furnitures, if you hope to achieve the best result possible, and that is exactly what we are here to help you find right now. 🙂
List of 4 Best Sander for Furniture's Refinishing – Reviews
1. DEWALT DWE6411K SANDER
Here we have a very nice corded sander to go with, and yes, it has a power cord, which some may not like, but you don't ever have to worry about the batteries running out, so that's quite a bonus. This is quite the powerful and fast acting sander, as it features a fairly strong 2.3 AMP motor which pumps out 14,000 OPM. In other words, it should make very quick work out of whatever furniture needs sanding, especially if you are using the right sand paper.
Something which stands out about the DEWALT DWE6411K Sander is that it comes secure lock dust ort, so you can suck away sawdust and keep your work station clean, then dispose of it whenever you see fit. Speaking of sawdust, here you also get a rubber dust boot over the switch, as well as some protective measures to stop dust from getting sucked into the unit.
The DEWALT DWE6411K Sander also comes with a nice palm grip, one that has a good texture for long term use. This sander also has features to help reduce vibration, therefore reducing fatigue and increasing comfort. Another neat aspect here is the reduce height of this sander, so you can get really close to your projects. It's a lightweight, easy to control, powerful, and durable sander, and it might just be the best sander for furniture on the market right now.
Pros
Efficient and powerful
Comfortable and easy to hold
Takes care of dust
Vibration reduction features
No need for batteries
Cons
Does require extension cord/power outlet
Not ideal for very large projects or fine details
WHY WE LIKE IT
We like the DEWALT DWE6411K Sander because it's not too expensive, yet still durable and powerful enough for most needs, even for frequent furniture sanding. It's just an all around great sander!
You may also check this relevant Guide: Best Sanders For Wood
2. BLACK+DECKER MOUSE DEAIL SANDER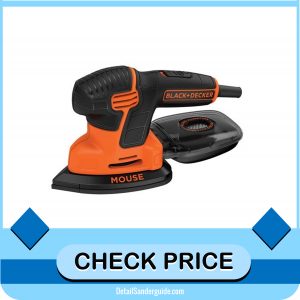 Ok, so whereas the previous sander we looked at was best for basic furniture sanding, here we have a model which is designed for detail work. Now, keep in mind that this sander is quite small, so it's not great for large, rough, and heavy duty sanding jobs. However, when making furniture, you will need something that can handle small detail work, such as corners, points, and various patterns. The BLACK+DECKER Mouse Detail Sander is perfect for exactly that.
It is very small and compact, plus lightweight too, not to mention that it comes with a comfortable handle. This means that it is easy and comfy to hold for a prolonged period of time without causing fatigue. Moreover, the front of this sander also comes to a point, making it great for precise detail work that larger and square based sanders just couldn't handle.
Next, the BLACK+DECKER Mouse Detail Sander comes with a 3 position grip, making it even more accurate and precise for those fine tune sanding jobs. Even better, this sander also comes with a fine detail finger attachment, so you can work your way around and between very small objects and through small spaces, which most larger sanders could never do. Keep in mind that if you are willing to pay a bit more, you can also get a 12 pack of sandpaper included. Finally, the BLACK+DECKER Mouse Detail Sander does come with a small dust collection system, although it cannot fit much.
Pros
Very lightweight and easy to maneuver
Ideal for tight spaces and fine detail work
Very energy efficient
Nice little dust collection system
Compact and portable
3 position grip
Cons
Not good for large jobs
Small dustbag
Not the most durable
WHY WE LIKE IT
We like the BLACK+DECKER Mouse Detail Sander because it really is quite perfect for small detail work, which you will definitely need to do if you are making furniture. It's small, maneuverable, lightweight, and great for tight spaces.
3. MAKITA SHEET FINISHING SANDER
Quite the opposite of what we just looked at, the Makita Sheet Finishing Sander has a much larger base. Instead of being ideal for fine detail work, which this item is definitely not, it's meant for sanding larger surfaces with speed. The Makita Sheet Finishing Sander comes with a large sanding base, one designed for smoothing out large planks, such as doors, cabinet walls, drawers, and other such things. Now, this item is advertised as being made for fine sanding, to achieve a very fine and smooth finish, but if you like, you can also put rough sandpaper on it for rougher sanding work as well. 
We've also wrote a separate detailed review on Makita sander, You should checkout that.
The Makita Sheet Finishing Sanders an electric corded sander, one which features 11,000 OPM. Now, it's not the fastest moving sander in the world, but still more than good enough for most basic needs. What can be said about this particular sander is that it is very easy and comfortable to use.
Now, it might be a bit too large for small spaces, but that said, it does come with a very comfortable handle, one with good grip that is easy to hold, plus a large 2 finger trigger switch for ease of use. Moreover, it also features a good counterbalance to minimize vibrations, therefore minimizing fatigue and maximizing overall comfort. The Makita Sheet Finishing Sander does also come with an efficient and high quality dust collection system to help cut down on the mess created when sanding furniture.
Pros
Very comfortable
Lightweight and maneuverable
Vibration reduction features
Ideal for large and flat surfaces
Enough power for most basic needs
No need to deal with batteries
Good dust collection system
Cons
Not ideal for fine detail work
Some components could be more durable
Why we like it
We like the Makita Sheet Finishing Sander because it makes fast work out of large and flat surfaces, not to mention that it is exceedingly user-friendly in many ways.
4. WEN 6301 ELECTRIC DETAILING PALM SANDER
ing back in the other direction, instead of a furniture sander for large and flat surfaces, the WEN 6301 Electric Detailing Palm Sander, as the name might give away, is a very small unit designed for tight spaces and fine detail work. The sanding pad comes in at 3.75 x 5.5 inches, making it a good choice for tight spaces and small items. Moreover, the tip of this sander is pointed, so it is ideal for corners and edges, plus for those fine details too.
It's not something you would use for very large objects or large areas, but when it comes to fine, small, and super precise detail work, it might just be the best sander for furniture on the market at this time. The WEN 6301 Electric Detailing Palm Sander is corded, so you never have to worry about batteries, but it still is quite fast and powerful, coming with 13,500 OPM, which is quite fast indeed.
What we personally love about this thing is that it comes with a Velcro sanding pad base, to make switching out sandpaper about as easy as can be. Although, that said, Velcro does wear down over time, so that is something to keep in mind. Other than that, this is a very small and lightweight sander, one with a very comfortable handle, as well as some vibration reduction features too. In other words, it's light, comfortable, and very easy to use. It does also come with a dust collection port, although there does not seem to be a collection bag included.
Pros
Great for small detail work
Lightweight, comfortable, easy to maneuver
High OPM for fast work
No need to deal with batteries
Easy to switch sandpaper
Comes with a dust collection port
Cons
Velcro wears out quite fast
Not ideal for large projects
No dust collection bag included
WHY WE LIKE IT
We like the WEN 6301 Electric Detailing Palm Sander because it is small, easy to use, straightforward, and perfect for fine tuned and precise detail work.
5- B04552  Finishing Sander CRL by Makita
This is hard to find a tool that can perform better when it comes to finishing the heavy surface. You will experience minimum hand fatigue. The reason for this is the controlled vibration in the tool. The controlled vibration of the machine is possible due to the ball bearing construction. The product is excellently designed. Each and every aspect is considered and brought into consideration. Even the power switch is placed at an excellent location. 
The dust collection system also works great. It collects most of the dust produced while sanding and operating the sander. Moreover, that tool is properly protected. The rubber seal of the machine stops the dust from entering the machine.
Paper installation is effortless; this can simply be done with the help of a conveniently built clamp. 
The machine lacs only in one thing and this is the speed control. This machine is not equipped with the variable speed control system.
Pros
This powerful machine can be operated on 14000 OPM
The machine provides a smooth finish
Controlled and reduced vibration
Designed for the ease of the customer
Paper Change can be done easily
12 months warranty
Cons
Speed variation option is not available
Why We Like it
The machine is conveniently designed for the user. The machine is best for finishing work. The paper can be conveniently changed. The use of ball bearing reduced friction. The machine provides ease of mind with 12 months warranty
6- Finishing Sander GSS20 Bosch
If you are looking for a sanding machine that can be used on drawers and bookshelves. This is the best choice. This machine has a unique feature. This can send the surface with the edges of the paper. This helps to work on the narrow spaces. Finishing Sander GSS20 Bosch used an aluminum sander plate to do precise sanding. The powerful motor has the capacity to run at 2.0 amps. The maximum oscillations this machine can produce in a minute is 12000.
Finishing Sander GSS20 Bosch has an excellent dust collection system. The vibration control system works excellently and can collect dust effectively well. Finishing Sander GSS20 Bosch is relatively a silent sander to work with. Sandpapers can be replaced easily as the machine is equipped with a clamp to do the task.
Pros
Machine is powerful
Reduced Vibration
Paper can be replaced easily
Easily sand the edges at the narrow places
Cons
OPM speed is not at its best
Why we Like it
The machine is best for the wardrobes and draws. This can perform exceptionally well at narrow places. The second important element we love is the reduced vibration feature and the last but not the least is the ease to change the paper of the machine.
FAQ
What Is The Difference Between A Palm Sander And Orbital Sander?
Palm sanders usually have the sandpaper moving back and forth, and are ideal for smaller tasks, whereas orbital sanders have the sandpaper moving in an orbital fashion and are better for larger tasks.
What Should I Use For Fine Detail Work?
If you need to work in tight spaces and create fine details, you want a small sander with a pointed tip.
What is Better, CORDED OR CORDLESS? 
This really depends on your needs, as cordless models usually have less power and require battery changes, but are more portable, whereas corded models never have you worrying about battery life, and are more powerful, yet also less portable.
Do I Need To Sand The Wood Before Painting?
Yes, it is always a good idea to sand wood before painting, as you probably want a smooth and fine look, not a rough and textured finish.
What Direction Do I Sand Wood In?
Whenever you are sanding wood or furniture in general, you always want to sand with the grain of the wood, not against it.
CONCLUSION
The
best sander for furniture
is the one which suits your needs the best. Simply put, do you need something for large areas, or something for finer detail work? Once you figure this out, as well as what your price point is, you should have no problems finding the right model for you.