5 Best Budget Cordless Drills (Complete Review)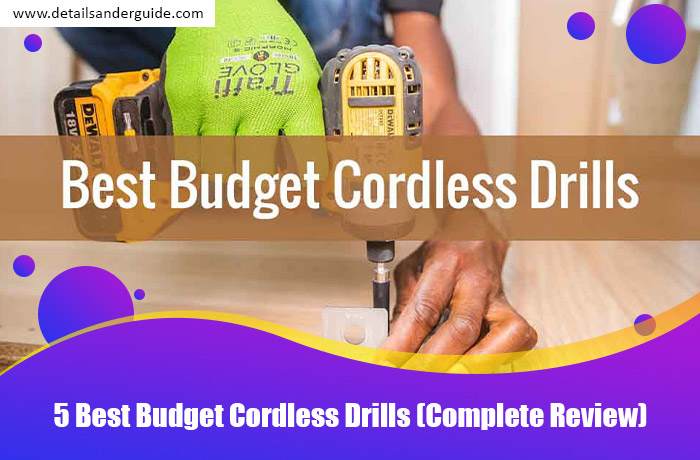 A few tools are required to maintain every household. Drills are one of those essential tools which should be available to every household, and cordless drills make the task much less laborious. Whether you are a house owner or a professional who needs to update their tool kit, you must be searching for a best budget cordless drill that fits your needs as well as your budget. If your search has been fruitless, this article will certainly help you decide as it covers the shortlisted cordless drills perfect for anyone.
1. BOSCH CORDLESS DRILL DRIVER PS32-02 – BRUSHLESS COMPACT DRILL
The Bosch cordless drill driver is a very handy tool whether you are a contractor or need it for domestic use. Let's discuss the top features of the best budget cordless drill machine. The biggest plus point of this drill is the weight and ease of use. It has an easy grip and works efficiency. This tool will provide you power, comfort, and performance.
FEATURES
The Bosch PS32-02 features a 12V battery made of Lithium-Ion and comes with a charger with 1-hour battery life.
The design has many features that make it a convenient tool with the dimensions of almost 7 by 6 inches its very handy as well.
It has a variable speed setting that can be adjusted for suitable uses.
It also comes with some accessories such as a holder for magnet bits, a carrying bag, 4 screwdriver clips, etc.
The light-weight cordless drill also has a keyless chuck of 3/8 inches.
The 12-volt battery delivers an excellent performance.
Pros
This cordless drill has a weight of only 2 Lbs. which makes it one of the most compact drills and very light in weight.
The Bosch cordless drill also comes with a 3-year warranty. It has a very balanced structure.
The range of speed available makes it easier to adjust the drill for multiple uses. You can switch from a very mild speed up to 1300rpm.
The 12V battery has a 2-amp power, which can last up to a day while only consuming an hour to 80 minutes to get fully charged.
The brushless motor of the drill enhances the power of the battery, even more, making it extremely efficient.
Cons
The only negative side of the cordless drill could be the bit holder. Which could have been a bit more efficient and convenient.
OVERALL IMPRESSION
In conclusion, the Bosch PS32-02 has outdone even the newer and more recent cordless drivers in comfort, battery, and performance. The light-weight aspect along with its quality of low-noise makes it perfect for any household while the high duty results and a long run time prove that the Bosch stands out as drill for professional use as well.
2. DRILL DRIVER, 20V 1/2″ CORDLESS DRILL SET
This is a great power tool for all your drilling needs. It comes with a long battery life and it quite durable.This drill comes with the variable speed feature so you can work on different applications. Let's take a look at the key features of this drill.
Features
The cordless drill set includes two batteries of 2000mAh power. It also comes with the charger, which is fast and only takes 30 to 40 minutes to charge the battery. The battery also shows the percentage.
It also has variable speed settings so you can switch between high or low according to your needs. You can choose the speed ranging from 450 to 1700 RPM according to the task and the material.
It has a powerful battery that delivers a torque of 530 lbs. This power seems to warm the tool up, therefore, it comes with a cooling fan.
It has an already installed LED light on one side for precision at work.
The exterior includes the composition of both metal and plastic. The rubber handle makes the grip on the handle better and helps in easy working.
It comes with a number of accessories such as a charger, belt clip, contractor bag, etc.
Pros
The cordless drill driver has 2 batteries of lithium-ion composition.
The 4-pole battery is an excellent choice, which delivers power and efficient results even while drilling through tougher or thicker surfaces.
If you need to drill a small hole through a wall, you can lower the speed settings accordingly.
The LED present is trigger activated so the work area will be clearly visible without having spent too much battery on the LED light.
The battery charger is designed to be extremely fast and can charge the battery fully in only half an hour. Though the charger is fast, the run time of the battery is still reliable.
Cons
The only con of the tool might be the fact that it weighs 10 pounds, which might be on the heavy side for some.
OVERALL IMPRESSION
Despite being an affordable option, the cordless drill features some useful features like a fan to keep the battery cool and an LED light similarly the quality of the battery makes it more commendable. It also displays the battery percentage on the power indicator and has a super-fast charger. The powerful battery can be put to any type of use, especially with the speed adjustments it makes it suitable for many different types of tasks.
3.  HUNDA ELECTRIC DRILL SET, 12.8V CORDLESS DRILL DRIVER
HUNDA electric drill comes with reverse/forward rotation, this makes it unique among other drills available in the market. It is a lightweight and compact tool with lots of power. Let's discuss the key features of this powerful tool.
FEATURES
The HUNDA electric drill features two 1300 mAh batteries with lithium-ion composition. It also comes with a fast charger, whichtakes one to two hours to charge the battery.
The tool is designed to be very light in weight, weighing only around 4 pounds and the size is very compact.
The product includes many different sizes and types of drills bits for many suitable materials among other accessories.
It also has two different speed settings, ranging from 400 to 1450.
It has all-metal gears and a keyless chuck.
The electric drill also has a forward/reverse rotation, which can be easily adjusted.
Pros
The extremely compact size and lightweight of the electric drill make it the perfect candidate for a DIY activity or usual household repairs.
The powerful battery along with the speed adjustments makes it easier for the user to get the most uses out of it.
It comes with a number of accessories including various drill bits for suitable materials, screwdriver bits and a carrying bag, which makes it convenient to carry and store.
The installed LED helps to enhance visibility and helps to work efficiently in the dark.
The chuck is self-tightening which allows you to switch between various drill bits without too much hassle.
Cons
It is mostly suitable for minor tasks and household use and not powerful enough for professional use.
OVERALL IMPRESSION
In conclusion, this electric drill has many useful attributes that any homeowner can benefit from. Due to its compact size and lightweight, it can be carried around easily. The powerful torque, different power settings along with adjustable speed setting are some important features to look for in any reliable drill and the HUNDA electric drill offers it all.
4. YIMALER 12V CORDLESS DRILL DRIVER KIT HANDHELD DRILL
The YIMALER 12 v drill is a decent cordless drill. This includes LED light and has a 3/8 inch metal chunk for a tight bit grip. It comes with huge power and you can use it on different types of applications. This tool is very lightweight and compact. It can drill drive or drill fasteners in the tight space or overhead. It is completely safe for you because of its 4 type protection. It includes overpressure protection, temperature protection, and over current protection for user's safety.
FEATURES
The YIMALER cordless drill includes a 12V battery and comes with a 2000 mAh battery that provides a fast-charging service.
This cordless drill delivers a high torque of 265 inches and has a speed of max 1300 RPM.
The drill uses a range of speed, from 550 to 1300 RPM, which the user can adjust.
It is designed to provide comfort to the user and is very light in weight. It uses plastic for the exterior.
The drill also includes an LED light.
Pros
The drill has a powerful battery, which is composed of copper and is sustainable and durable.
The powerful battery makes it very useful for tougher surfaces.
The compact design and lightweight of the drill makes it the perfect tool for carpenters and plumbers as it can easily be carried around. It comes with a carrying bag of its own and only weighs around 4 pounds.
It is easy to use makes it applicable for household use and DIY projects.
It comes with an LED light, which triggers when the drill is activated.
It also comes with various free accessories including a bag and several drills and screwdriver bits.
Cons
The battery is at the grip bottom, which can be problematic to remove sometimes.
OVERALL IMPRESSION
The YIMALER cordless drill has multiple features that can very well serve a professional or a house owner. It has a powerful yet durable battery, which delivers a high torque despite the compact size style of the drill. It is easy to use and comes with various accessories suitable for all uses and surfaces.
5. TACKLIFE 12V CORDLESS DRILL DRIVER
TACKLIFE 12V drill is another decent cordless drill available on the market. The price is very reasonable and the features are more than that. It comes with a compact design and looks quite decent. Let's take a look at the top features of this powerful machine. The variable two-speed setting allows you work on different types of applications. This drill features a selector control on the top so you can set the gearing of drill.
FEATURES
The TACKLIFE cordless drill has a powerful torque of 239 lbs.
The drill has a 2000 mAh powerful battery accompanied by a fast charger.
Its exterior composition consists of plastic and has a very compact design.
It has a range of variable speeds. The low-speed setting ranges from 0 to 350 RPM while the high-speed adjustment ranges from 0 to 1300 RPM.
The gear is a durable gear and the clutch position maximizes the control over the position while drilling.
The torque is also adjustable as it shifts from high to mild according to the speed settings, providing a wide range application.
The chuck is 3/8 inches of size and is composed of all metal.
Pros
The 12-volt charger provides very fast charging, going from dead flat to full in only an hour. Moreover, the battery is extremely reliable in terms of self-discharge rates.
The powerful torque varies with the speed which provides a very wide range of uses, ranging from professional to everyday house improvements.
The compact design makes it ideal for regular use and for carrying it around. The plastic exterior serves for a light-weight and handy design. In addition, the rubber over the handle provides further comfort to the user.
The LED light automates while the drill is in power, illuminating the area and making the task easier for dim work areas.
The entire package includes a number of accessories, providing a wider use for the drill.
Cons
The run time of the battery (when fully charged) is only up to an hour, which may not be enough for professional use.
OVERALL IMPRESSION
The drill is very suitable for household tasks as it is powerful yet small and can drill through multiple types of surfaces. It is easy to use and delivers an excellent toque with variable speed, which broadens its application range. It also comes with two warranty and a number of related accessories.
CONCLUSION
Overall, these are the top 5 cordless electric drills that you can choose from depending on your requirements. They all do have varying powers, speed settings, and other features. Some maybe very equipped and powerful for everyday house improvements so they fit better for professional plumbers, carpenters or contractors. However, this list will provide you an idea of what you need, and how best it will serve you.